About Lifeline Ballarat
Lifeline Ballarat - serving the people of Ballarat, the Grampians region and Australia.
Lifeline Ballarat is one of 40 centres across Australia, being part of a trusted national charity that has been saving lives and supporting Australians in need for more than 50 years.
Lifeline Ballarat delivers crisis support and suicide prevention services through the national 13 11 14 help line. The service provides confidential 24/7 telephone crisis support and referral services to Australians in need. Currently more than 3000 calls are answered each day, which is one call answered every 30 seconds.
Last year Lifeline Ballarat's Crisis Supporters answered more than 10,000 calls.
PLEASE NOTE:
In the case of an emergency or if life is in danger, please call 000.
For crisis support, please call Lifeline on 13 11 14.
The email address and phone line for Lifeline Ballarat are not monitored for emergency situations.
Lifeline Ballarat provides community and corporate training with a mental health, wellness and awareness focus. Some of the courses we offer include ASIST, Mental Health First Aid and DV-aware and DV-alert. 
Lifeline Ballarat has been supporting its community for 48 years and is still going strong.
2020 Volunteer Crisis Support Workplace Training (CSWT)
June 2020
Are you interested in this satisfying and challenging role?  If so, please click on the link below to learn more about the training pathway and the role of a Crisis Supporter. We would love to hear from any member of the public who is interested in the volunteering opportunity.
Our next intake for the nationally recognised training will be early in 2021. Please review the information on the Volunteer page, or click on this link. 
Alternatively, please contact the Administration Office and we will answer any queries you may have.
E: lifeline.ballarat@vt.uniting.org 
P: 9051 7471 
Out of the Shadows Walk
The Out of the Shadows walk is a Lifeline event hosted by the Ballarat & District Suicide Prevention Network and is held to coincide with World Suicide Prevention Day, September 10 every year.  Lifeline Ballarat is a proud partner of the network. Join us as we walk to raise awareness, remember those lost to suicide and unite in a commitment to prevent further deaths by suicide.
Date:              Saturday 12 September 2020
Time:              5:10am registration for a 5:30am start
Where:           Rotunda near Pipers Restaurant, Wendouree Parade, Ballarat
No need to register, join us on the day. If you would like to commemorate a loved one's name, please send the information to the Ballarat & District Suicide Prevention Network.
E: enquiries@suicidepreventionballarat.com.au   
Facebook @suicidepreventionballarat 
W: Suicide Prevention Ballarat
There are reflection points during the walk, and breakfast is provided afterward.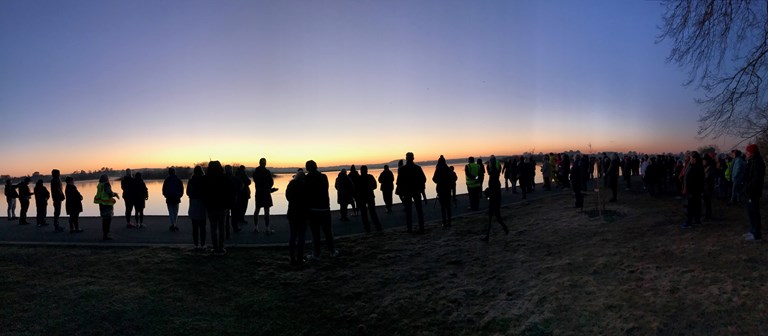 Help us help Australian's in crisis